Rotten And Poor Promotion are a promotion agency based in Berlin, Germany, specialising in Heavy Metal, Rock and Pop music. Founded in 2010, the agency successfully worked with artists like:
A Life Divided, Abbath, Aborted, Accept, Amon Amarth, Amorphis, Andreas Bourani, Annihilator, Arch Enemy, Architects, Asphyx, Audrey Horne, Avantasia, Avatarium, Battle Beast, Behemoth, Betontod, Beyond The Black, Black Star Riders, Blind Guardian, Blues Pills, Brainstorm, Bullet, Callejon, Carcass, Corvus Corax, Cryptopsy, Dagoba, Deathstorm, Delain, Der Weg Einer Freiheit, Destruction, Dream Theater, Enforcer, Entombed A.D., Epica, Evergrey, Exhumed, Fatal Embrace, Five Finger Death Punch, Freedom Call, Ghost, Grave, Grave Digger, Hammercult, Helge Schneider, Hirax, Iced Earth, Iggy Pop, In Extremo, In Solitude, Inquisition, Iron Maiden, Judas Priest, Kadavar, Kataklysm, Kobra And The Lotus, Krawallbrüder, Kreator, Lake Street Dive, Lena, Logar's Diary, Macklemore & Ryan Lewis, Magnum, Metal Allstars, Metal Church, Mutilation Rites, Napalm Death, Nervosa, Nightwish, Niila, Northlane, Obituary, Orchid, Orden Ogan, Origin, Orphaned Land, Overkill, Pain, Parkway Drive, Powerwolf, Primal Fear, Primordial, Prong, Protector, Rammstein, Rhapsody, Russkaja, Sabaton, Sacred Reich, Scram, Sea+Air, Septicflesh, Sepultura, Skull Fist, Slapshot, Sodom, Soilwork, Sonata Arctica, Space Chaser, Stahlzeit, Stanfour, Steve'n'Seagulls, Stratovarius, Striker, Subway To Sally, Suicidal Angels, Tankard, Tarja, The 96 Eyes, The Vintage Caravan, Thy Art Is Murder, Tribulation, Truckfighters, Twilight Force, Unearth, Vader, Van Canto, Varg, Voivod, Wacken Open Air, Winterstorm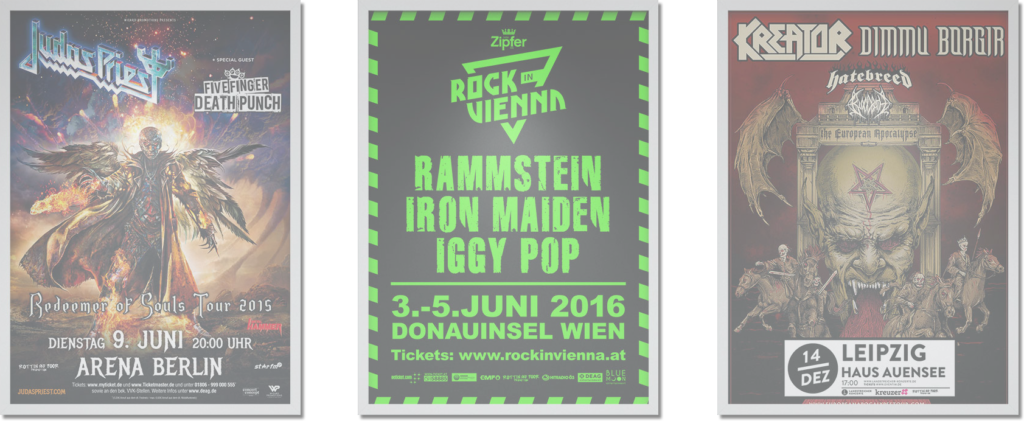 ---
Since 2020, Rotten And Poor Promotion has also specialized in graphic design work.
We are experienced promoters, graphic designers, video editors tailoring every project to your needs and fitting in with your budget.
We provide a varied selection of services:
• Lyric videos
• Song stream videos
• Visualizers
• Spotify Canvas
• Booklets & packagings
• Tour & concert posters
• Tour books
• Logos & symbols
• Merchandise designs
• Stage backdrops
Want to discuss your new project? Don't hesitate to contact us on our Contact page.